Steel Security Door With Multipoint Locking System
Economical door with excellent security, locking off a single key
The Maxdor 101 steel multipoint locking doors are a superb multi-lock door that is ideal where security, functionality and performance is essential. Suited for retail, public and commercial buildings.
The door can be powder-coated finish in a range of colours with weather seals as standard. Multilock doors are available in all formats; single, double and leaf and a half and supplied as complete units consisting of 8 no shoot bolts, door frame, door leaf, range of thresholds, 6 no dogbolts and anti-jemmy strip.
Available with or without vision panels fitted with Toughened Glass, Wired Glass or Plexiglass to suit your specific situational needs.
We also supply performance versions of the Multi Lock Door including security doors, fire doors and acoustic doors.
The Maxdor multipoint locking security door is an ideal replacement for timber doors for both internal and external use.
Suitable for a wide range of installations, there is no higher spec on a standard British made door!
Call on 01279 271192 for advice & quotes
Technical
Maxdor 101 Multilock doors are fabricated using 1.5mm Zintec steel to the door frame and 1.2mm Zinteck steel to the door leaf. Door frames feature a 90mm or 150mm front to back profile with integral single rebate.
Door leaf is 45mm thick, with integral anti-jemmy strips and 6No.  or 9No. dog bolts to suit the size of the door. Hinges are BS. EN 1935:2002 Grade 13 Stainless Steel. (4No. on standard doors, 6No. for oversize doors).
Door skins come with the choice of solid doors or partial glazing/vision panels.
Glazing is available as 6.4mm single laminate or 24mm laminated sealed units.
Toughened Glass, Wired Glass or Plexiglass is also available to suit the application.
Threshold options of Folded steel, aluminium DDA compliant and a double-ramped aluminium threshold are available.
Hardware
Sizes
Colours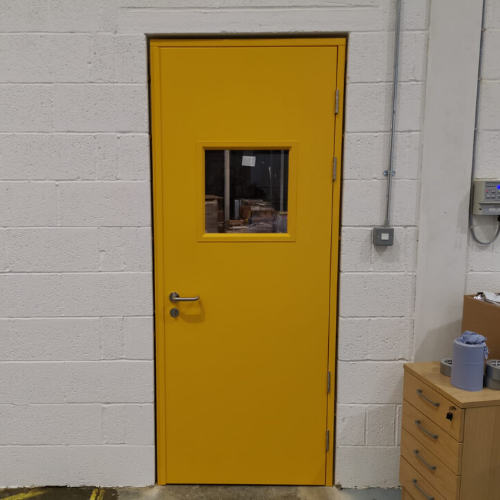 Providing functionality and performance for retail, public and commercial buildings at entry-level and at economical prices.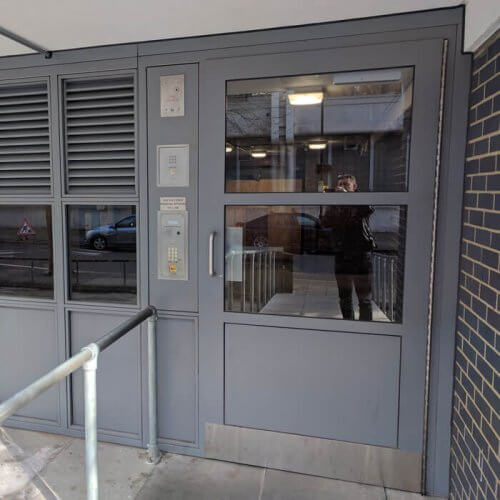 Door solutions for high traffic, constant use doors in residential buildings, and include anti-vandal and access control features.