High security doors to protect your building
Complete range of certified doors; includes SR1, SR2, SR3 & SR4
Maxguard 500 range of high-security doors are tested and certified to industry bodies and standards that are recognised by insurance companies.
Testing is carried out using various forms of unauthorised entry. For example, level 1 will allow the use of body force and light implements, level 3 will allow all the implements of level one plus many more tools such as crowbars and hammers of a certain weight.
When assessing what level of security is required, our non-certified security door range provides basic levels of security, which can be improved upon by combining different variations of quality hardware and basic door upgrades. However, if certification is required you will require our Maxguard 500 range.
The Maxguard certified security doors are fully configurable with different sizes, hardware options and colours available.
Our doors are supplied as complete units consisting of the door frame, door leaf, range of thresholds, dogbolts and anti-jemmy strips. Powder-coated finish and weather seals as standard and our louvre doors are available in all formats including single, double and leaf and a half.
For advice and assistance in getting the best door for your installation, talk to our team or contact us, and we will be happy to help with your specification.
Call on 01279 271192 for advice & quotes
Technical
Maxguard 500 certified security doors are fabricated using 1.5mm Zintec steel to the door frame and 1.2mm Zinteck steel to the door leaf. Door frames feature a 90mm or 150mm front to back profile with integral single rebate.
45mm thick door leaf, with integral anti-jemmy strips and 6No. or 9No.  dog bolts to suit the size of the door. Hinges are BS. EN 1935:2002 Grade 13 Stainless Steel. (4No. on standard doors, 6No. for oversize doors). Threshold options of folded steel, aluminium DDA compliant and a double-ramped aluminium threshold are available.
Certified Scope
Single outward opening doors
Double outward opening doors
Single outward opening doors with fixed side and/or over panels
Double outward opening doors with fixed side and/or over panels
Hardware
Sizes
Colours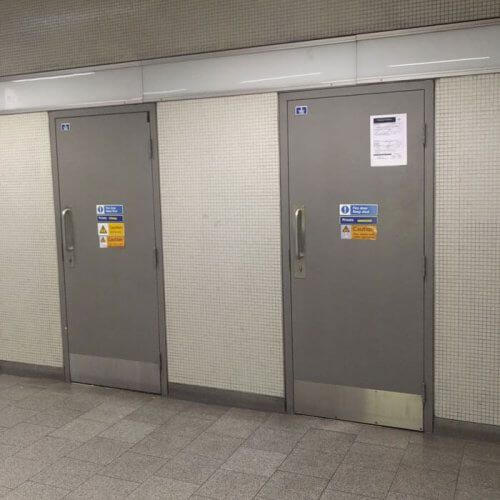 Ideal for commercial buildings that require fire protection and noise control from plant rooms, extractor units & general areas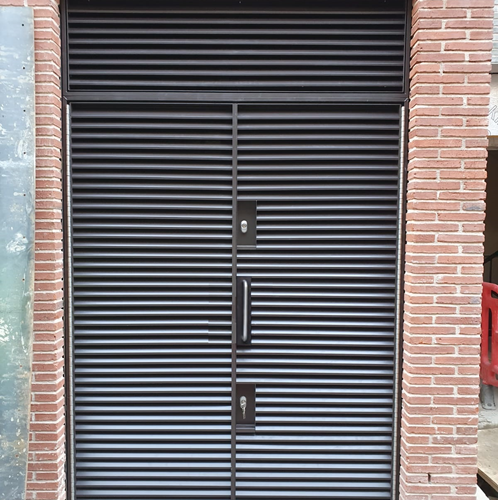 Security steel louvre door ranges are ideal for bin stores, plant rooms, cycle stores substations and IT rooms.