Fully Louvred Aluminium Door
Maximum air flow, durability & modern visual look
Strong aluminium louvre doors for bin store doors, plant room doors and cycle store doors
Our Maxdor 302 doors are fully louvered aluminium doors providing high air flow and a very smart visual look. Ideal for situations where maximum airflow is needed, together with fire resistance and security. 
With a wide range of hardware options and colours available, these doors are ideal for both internal and external use in a variety of installation locations including
Commercial offices
Schools & universities
Factories & warehouses
Hospitals, Medical Centres and Veterinary Surgeries
Retail stores & Out-of-town outlets
Hotels & secure car parks


Maxdor Louvre doors are supplied as complete units consisting of door frame, door leaf, dead lock with built in pull handle, fly mesh, powder coated finish and limit stays as standard and a full range of overhead and side panels are available.
These highly ventilated doors are available in all formats including single, double and leaf and a half. The Maxdor 302 Louvre  door provides the highest air flow and best visual look for retail, public and commercial buildings.
Call on 01279 271192 for advice & quotes
Technical
Aluminium extrusions conform to 6063-T6 to BS1474, with a minimal wall thickness 1.6mm.
Doors and frame comprise a fully framed construction ready for fast installation into prepared openings. Maxdor Louvre MP doors are available as individual doorsets or as part of a larger louvre screen.
Aluminium 100x50mm box section outer frame with hinge rebate.  Aluminium door leaf, 74mm thick. Doors are pre-hung in the frame.
Hardware
Sizes
Colours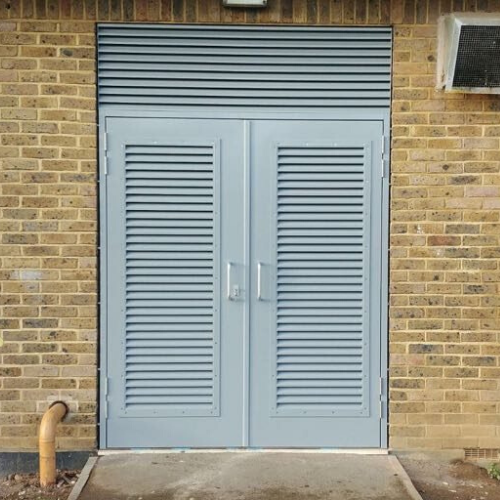 The most versatile of our steel louvre doors ranges and ideal for bin store doors, plant room doors and cycle store doors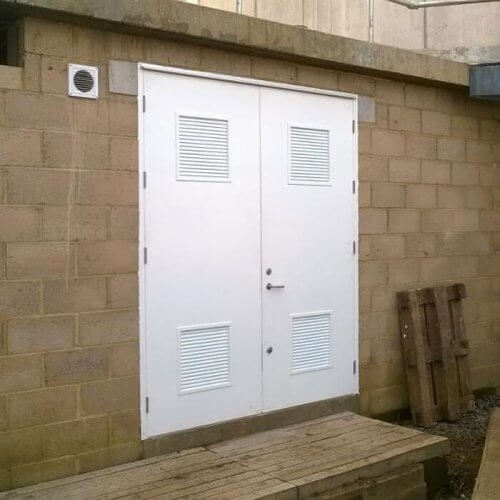 Fire-rated steel louvre doors ideal for bin store doors, plant room doors and cycle store doors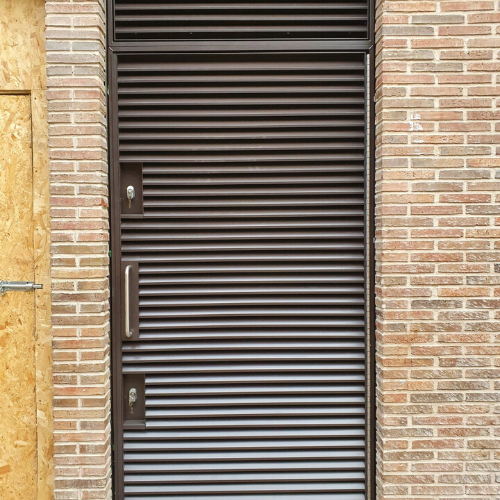 Security steel louvre door ranges are ideal for bin stores, plant rooms, cycle stores and substations