Ideal for communal entrances to flats and housing blocks
Maxdor Communal Entrance Doors provide solutions for high traffic, constant use doors in residential buildings, and include anti-vandal and access control features. A durable steel door, ideal for multi-purpose entrance and exit applications in flats, apartments, university accommodation as well as buildings of multiple occupation.
Doors are manufactured from Strong, lightweight and durable, steel in a choice of designs, colours and locking options. Maxdor Communal Entrance doors are designed for the replacement of existing old doors or for new build projects.  They offer cost savings thanks to a design that allows fast installation and easy adjustment.
Applications include social housing, student accommodation, high-traffic mixed-use buildings, schools and hospitals.
Powder coated finish and weather seals as standard, our communal doors are available in all formats; single, double and leaf and a half, glazed and solid side and over panels are available for all door formats. Performance versions of the Communal door including security doors, fire doors and acoustic doors.
Our Communal door range provides robust functionality and performance for residential blocks and social housing at entry level and at economical prices.
Available with a range of automation and access control options
Technical
Maxdor Communal Doors are fabricated using 1.5mm Zintec steel to the door frame and 1.2mm Zinteck steel to the door leaf. Door frames feature a 90mm or 150mm front to back profile with integral single rebate.
The door leaf is 45mm thick door leaf, with integral anti-jemmy strips and 6No.  or 9No. dog bolts to suit the size of the door. Hinges are BS. EN 1935:2002 Grade 13 Stainless Steel. (4No. on standard doors, 6 No. for oversize doors).
Door skins come with the choice of solid doors or partial glazing/vision panels.
Glazing is avaialble as 6.4mm single laminate or 24mm laminated sealed units.
Toughened Glass, Wired Glass or Plexiglass is also available to suit the application.
Threshold options of folded steel, aluminium DDA compliant, and a double ramped aluminium threshold are available.
Hardware
Sizes
Colours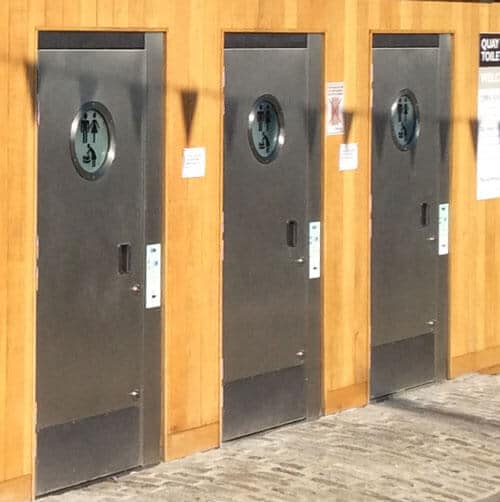 Stainless Steel Doors suitable for multi-purpose external and internal use for entrance and exit applications in commercial buildings.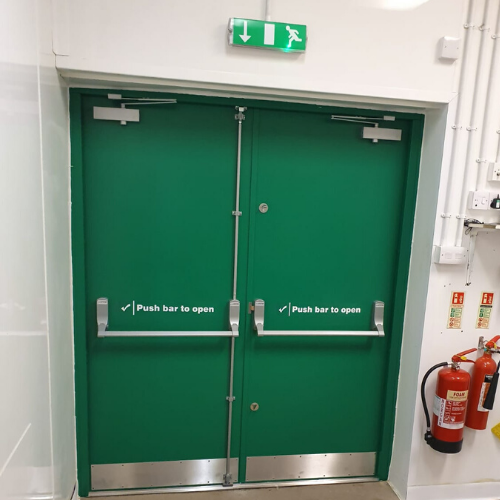 A safe and effective panic or emergency exit facility as well as being suitable for general entry and egress from a building.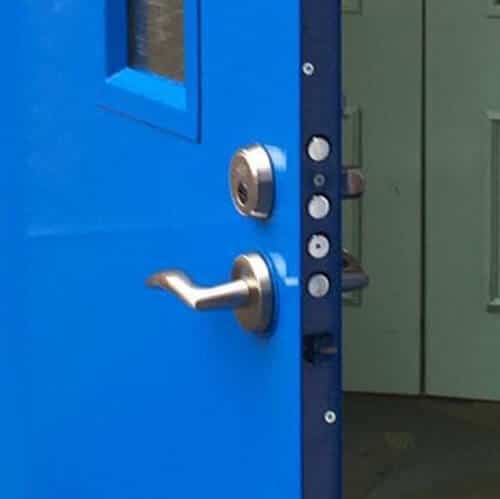 A superb multi-lock door that is ideal where security, functionality and performance is essential. Suited for retail, public and commercial buildings.