Raise the appearance and security of your commercial or communal property
The Maxdor 601 designer entrance doors add a touch of quality to your commercial or communal entrances and come with a huge range of quality hardware, functionality and finishes.
Get creative in your design without compromising on security and functionality. Available in single double and leaf and a half formats, with side light and overhead panels, these are all available with glazed or solid infills.
Full automation can be fitted to our designer doors, as well as access control using keypads, CCTV intercom, keyfobs and swipe cards.
Fully welded frames for strength, welded in hinges with ball bearings and quality finishes in natural wood, sprayed MDF or waterproof ply make this product perfect for upgrading the appearance and security of your building.
Our technical sales team are ready to answer your questions and give knowledgeable advice to ensure you get the best door for your location and use. Give them a call today.
Call  01279 271192 for advice & quotes.
Technical
Maxium 601 Designer Entrance Doors are available with different levels of security to meet security ratings, RC1, RC3 or RC4 for burglar-resistant doors. LPS1175 as well as Secured By Design is available.
Our entrance doors feature a strong structure consisting of steel profiles and sheets for the maximum frame and door leaf strength, combined with the latest generation, manual, electric or biometric locking systems.
Glass is toughened with optional upgrades for enhanced burglar resistance and anti-vandal properties. Doors also feature excellent sound and thermal properties, as well as wind, water or fire resistance.
The door leaf and frame has a mineral rock wool fill. Inside and outside faces of the door faced with a plain or decorative steel sheet. Also available is UMIDAX, EDM, Veneer, Solid OAK or Painted metal finishes inside and out. Doors fitted with stainless steel threshold.
Hardware
Sizes
Colours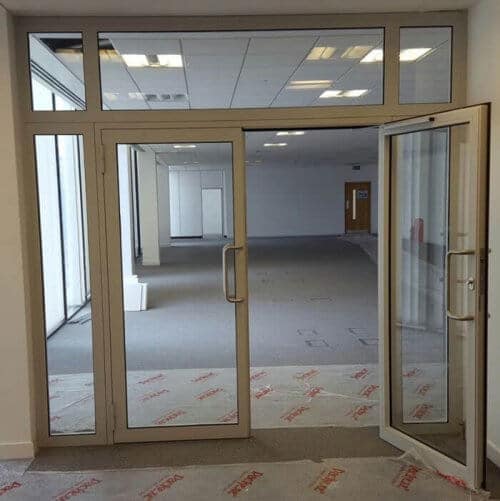 Steel framed, very strong glazed door and window system with Fire rated options