Economical door with acoustic performance of 35–40db
Ideal for commercial buildings that require noise control from specific rooms.
Our Maxdor Acoustic Personnel door is available with acoustic performance ranging from 35-40 DB, they are available in single, double or leaf and a half formats and are provided as a complete door frame, door leaf, hardware and threshold units.
The use of Maxdor Acoustic Personnel doors is to control noise generated from plant, extractor and ventilation systems as well as general from any other source.
Available in a wide range of colours, and hardware options, the Maxdor 400 Acoustic Personnel  Door is an economical door for many locations that require a level of soundproofing
Our team are available to help you specify the correct door for your installation, and guide you through the measuring and ordering process.
Available as supply only, or supply and fit.
Call on 01279 271192 for advice & quotes
Technical
Maxdor Acoustic Personnel Doors are fabricated using 1.5mm Zintec steel to the door frame and 1.2mm Zinteck steel to the door leaf. Door frames feature a 90mm or 150mm front to back profile with integral single rebate.
45mm thick door leaf, with integral anti-jemmy strips and 6No. or 9No. dog bolts to suit the size of the door. Hinges are BS. EN 1935:2002 Grade 13 Stainless Steel. (4No. on standard doors, 6No. for oversize doors).
Door skins come with the choice of solid doors or partial glazing/vision panels.
Glazing is available as 6.4mm single laminate or 24mm laminated sealed units.
Toughened Glass, Wired Glass or Plexiglass is also available to suit the application.
Threshold options of Folded steel, aluminium DDA compliant and a double-ramped aluminium threshold are available.
Hardware
Sizes
Colours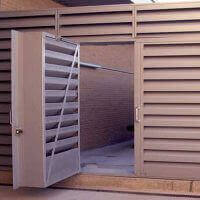 Ideal for commercial buildings that require noise control from plant rooms and extractor units that also require airflow.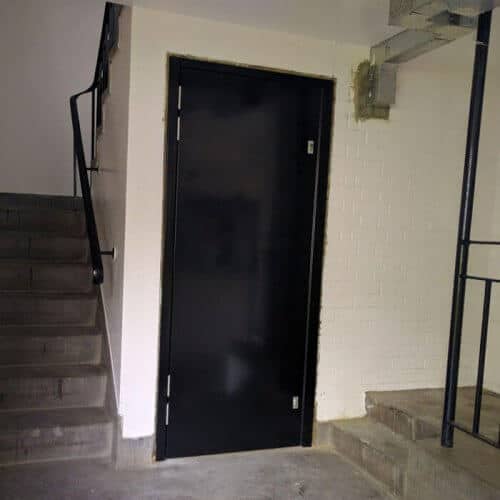 Acoustic Fire Rated Door
Acoustic rating upto 35DB and fire resistance performance from 60 – 240 minutes