Steel door-set providing high air flow for good ventilation
Strong, durable and economical louvre doors solution and ideal for bin store doors, plant room doors and cycle store doors.
Ideal for situations where ventilation is needed, together with an aesthetically pleasing presentation, security and fire protection. With a wide range of hardware options and colours, our fully louvred steel doors are ideal for a multitude of installation locations.
Maxdor Fully Louvred Steel Doors are derived from our Maxdor range; we have engineered the largest possible aluminium louvre panel into the door leaves which provides a minimal border with an all-around of 125mm, thus providing high airflow.
Maxdor Fully Louvred doors are supplied as complete units consisting of the door frame, door leaf, range of thresholds, dogbolts and anti-jemmy strips.
Powder-coated finish and weather seals as standard and these louvre doors are available in all formats single, double and leaf and a half.
This almost fully louvred door provides high airflow, functionality and performance for retail, public and commercial buildings at economical prices.
Our doors can be manufactured to fit any sized structural opening, and our design team will work with you to make sure you get the best solution for your specific installation.
Call on 01279 271192 for advice & quotes
Technical
Maxdor 301 steel fully louvred doors are fabricated using 1.5mm Zintec steel to the door frame and 1.2mm Zinteck steel to the door leaf. Door frames feature a 90mm or 150mm front to back profile with integral single rebate.
45mm thick door leaf, with integral anti-jemmy strips and 6No. or 9No. dog bolts to suit the size of the door. Hinges are BS. EN 1935:2002 Grade 13 Stainless Steel. (4No. on standard doors, 6No. for oversize doors). Threshold options of folded steel, aluminium DDA compliant and a double-ramped aluminium threshold are available.
Punched or Blade louvre options are available. In each door panel is the option of a louvre in the top section of the door, the bottom section, louvres top and bottom as well as a full width and height louvre.
Hardware
Sizes
Colours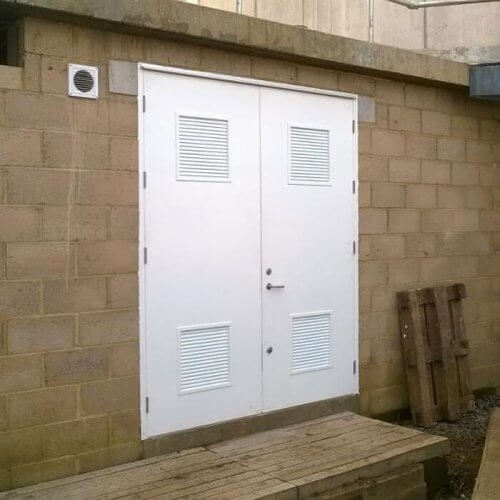 Fire-rated steel louvre doors ideal for bin store doors, plant room doors and cycle store doors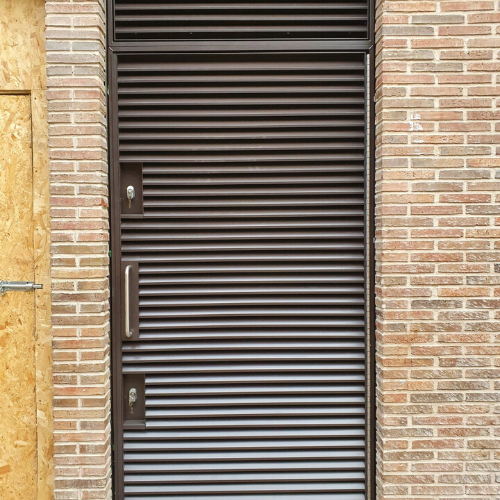 Security steel louvre door ranges are ideal for bin stores, plant rooms, cycle stores and substations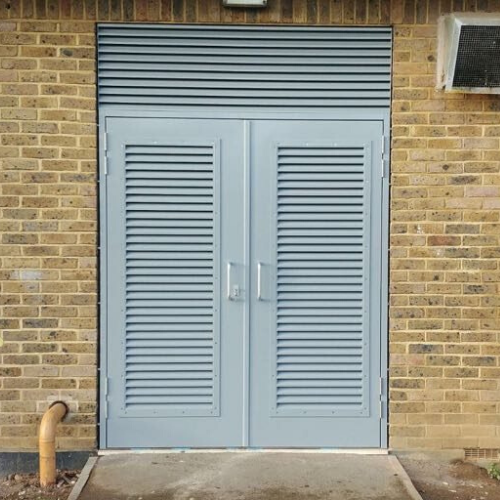 The most versatile of our steel louvre doors ranges and ideal for bin store doors, plant room doors and cycle store doors